Posted by: Paulette Aniskoff, Director of FEMA's Individual and Community Preparedness Division, and Darryl Madden, Director, FEMA's Ready Campaign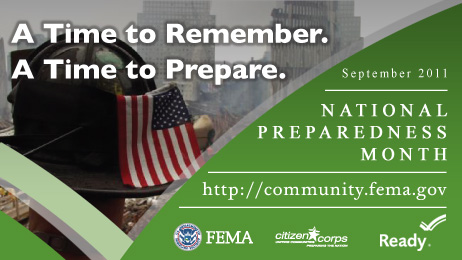 As we mentioned earlier on this
blog
, this September marks the eighth annual National Preparedness Month. This year we've launched new web tools that make it easier for you and your organizations to join the 2011 NPM coalition and pledge your support to help prepare your families, businesses and communities for emergencies of all kinds.
By simply
registering
to become a NPM coalition member, you'll have access to:
• a toolkit that includes suggestions for activities and events, templates, articles, banners and customizable materials,

• an events calendar allowing where you can post and promote preparedness events,

• discussion forums to share success stories to engage with fellow coalition members and FEMA representatives.
By hosting events, promoting volunteer programs and sharing emergency preparedness information, you can help others in your community prepare for emergencies. Becoming a coalition member is easy and free, so visit
http://community.fema.gov/
to get started. Nearly 2,000 coalition members have already joined this year's campaign!